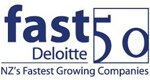 The team at Bluewater Systems is proud to announce that we have won two awards as part of the recent  2011 Deloitte Fast 50 – celebrating the 50 fastest growing companies in New Zealand.
Bluewater Systems received awards for 29th Fastest Growing Company in New Zealand, as well as Fastest Growing Technology Company – Canterbury and Upper South Island Region, with a growth of 283% over the last financial year.
Bluewater Systems also received a placing in the /Deloitte Technology Fast 500 – Asia Pacific/, with a ranking of 188 out of 500.
We would like to thank all of our staff, clients and suppliers for supporting us throughout the recent turbulent times, as without strong support on all fronts, we know this fantastic growth would not be possible.