Digital Cameras and Optics
Digital camera technology has rapidly replaced the traditional film based still and video cameras. In addition it has enabled the size and cost of camera's to reduce significantly, meaning that cameras can now play a role in products that would have previously been thought of as impossible. The mobile phone is the obvious example of this.
In past years Bluewater has developed a number of digital camera solutions for various customers and projects. These include a medical scanning device, land survey product and a security / surveillance solution. Typically we have used digital camera technology for single image capture but in some projects we have also delivered the ability to capture streaming images or continuous/video capture. Image storage is done using either on-board memory or via a common external memory card such as Compact Flash or SD card.
Based on our experience we are able to integrate digital camera technology into whatever product design you require. It could be high or low resolution, colour or black and white, what ever your requirements we will be able to source and design a product that meets your them.
Some of the design options that we can help with include:
Surveillance device (still or video imagery)
Motion detection camera
Wireless (802.11 WiFi) camera
Video phone / remote communications
Web camera
Product Showcase (Big-Eye)

Big-Eye uses a tiny Aptina 3 Megapixel sensor (1/2 inch CMOS) which offers good performance even in low light. Bluewater Systems designed this camera from the ground up. Apart from the sensor it includes a flexible CS lens mount, Ethernet, USB, SD card sforate, WiFi, 3G UMTS modem, Infrared LEDs for night vision, microphone, speaker and a passive IR motion detector. It can run from Power over Ethernet or a 6-36V power adaptor.
Internally, Big-Eye is a tiny Linux computer which watches for motion and then takes snapshots for storing in its internal memory.
For more information about Big-Eye, see .
Product Showcase (Optic)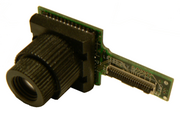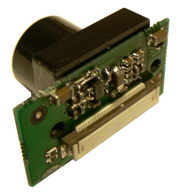 This camera board was designed to be embedded with in a product and provides a compact still image capture solution. We developed it for a New Zealand based surveying company and it has subsequently been used in other projects including a medical scanning application. It provides a maximum 3MP resolution for a single frame capture plus the ability to provide streaming images at a lower 480x320 resolution.
The entire camera unit fits on a PCB about the size of a matchbox, enabling it to fit into a variety of product enclosures. In designing the product Bluewater developed the hardware but also created all the software and algorithms used to capture and process the images. A core design such as this can be utilised in a range of products and enhanced to offer a higher resolution or faster frame capture rates.
Using a variety of third party camera lens and CMOS sensors that are commonly available today we could further develop this type of technology to meet specific requirements such as image quality, camera size or the need for streaming video.