Security and Surveillance
Video surveillance is used by thousands of companies and individuals to deter theft and assist in the identification of criminals and vandals. However, many of the systems currently installed rely on recording low-resolution video that is not suitable for positive identification and often not admissible in court.
Traditional surveillance systems rely on CCTV and their use has grown by leaps and bounds in recent years. Despite significant investment in CCTV security, many organisations are not getting the benefits that they hoped for. Current CCTV technologies suffer from two major limitations: high infrastructure costs for large-scale deployments and poor visual quality limiting the utility of captured data. As a result, CCTV systems have not lived up to their potential for preventing and facilitating the prosecution of crime; which ultimately makes for a poor return-on-investment.
Bluewater Systems has been working with embedded camera technology and CMOS sensors for many years, developing Compact Flash cameras for use in PDAs, enhanced PDAs with camera features, and portable battery-powered cameras for industrial use. Bluewater has developed a full-featured FPGA CMOS sensor interface which permits high speed operation of CMOS image snesors up to 12 Megapixels. The product, aptly named Big-Eye, has come from the realisation that it is possible to create a much lower cost, and yet more functional, camera than currently available, using the sorts of high-end consumer technologies available in the embedded space. Big-Eye is a clever integration of many of these technologies aimed at solving some of the problems reported by CCTV installers and their customers. Big-Eye is the next generation of autonomous security.

Some of the applications that Big-Eye can be useful for are:
Remote off-network imaging
Monitoring a door, driveway, parking area or building site where a wide field of view and high quality imaging is required
Low cost/bandwidth networking environments
Remote monitoring over standard ADSL Internet
Night operation in total darkness
Autonomous operation where security staff cannot be watching the system constantly
Public transportation where integrated storage and reliable operation and vibration tolerance are required
Product Showcase (Big-Eye)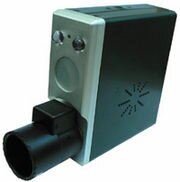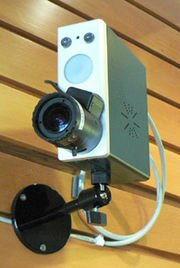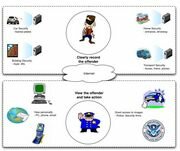 Big-Eye aims to revolutionise site monitoring through the use of high-resolution digital camera photography and commodity digital data storage and communication systems. A Big-Eye unit includes a fixed 3 Megapixel digital camera, internal storage for thousands of photos, and standard Ethernet and 802.11 b/g wireless networking. On-board sensors and expansion interfaces allow intelligent capture of event of interest, reducing monitoring and storage requirements. The use of industry-standard communication protocols, image formats and data storage further simplify the retention, reproduction and handling of captured images.
Big-Eye can be configured and controlled from a networked computer, or can operate stand-alone. An integrated motion sensor detects movement and automatically snaps photos before and after the movement. External connectivity also allows Big-Eye to control other devices such as an alarm or lighting. In addition, the Big-Eye unit can be controlled by other devices such as an alarm or remote panic button. A speaker connection allows Big-Eye to make security announcements or warnings, either automatically or manually from a connected PC.
Big-Eye includes a special means of authorising remote access to cameras. This allows law enforcement agencies, rural neighbors, alarm monitoring companies and other authorised parties to connect and see a live preview of what is happening after and alarm activation or other event. Camera owners can enable and disable this authorisation easily as required. This does not require massive bandwidth over fibre-optic cable and a standard ADSL or satellite Internet connection is suitable. For more details about Big-Eye, please refer to the Big-Eye Briefing Paper.
Big-Eye Features
High-resolution image sensor and lens produces true, high-resolution colour photos (3 Megapixels)
Supports full 128-bit WPA2 security
Includes audio record and audio announce through an integrated speaker / microphone (optional)
Can be mounted inside a weather-proof enclosure
Very low power consumption saves on running costs
10/100 Ethernet
802.11 b/g WiFi (optional)
Internal 1GB storage for around 2,000 photos
Removable SD flash storage card, up to 32,000 photos
Power over Ethernet or 6-28V input
Battery input option
Alarm interface for panic button, light sensor or event printer
Compact and CS mount lens options
PIR motion sensing and software
Feature
Standard CCTV Camera
Big-Eye
Resolution, Megapixel (MP)
0.4 at best (720x576)
3 (2048x1536)
Compression
Not in camera, but digital storage solutions may use

lossy compression, leading to loss of quality

JPEG, Motion JPEG
Networking
N/A
Ethernet, 802.11 WiFi
Frame Rate, Hz
25
15 at 320x240

1 at 3 MP*

Storage
External
2000 images internal

60,000 w/ SD card

Motion Sensing
Sometimes
Integrated PIR sensor
Alarm Interface
N/A
Intelligent 2-way alarm interface
Interface Protocol
Analog only - PAL/NTSC
Standards-based PTPIP, MJPEG
Bandwidth Requirements
Dedicated COAX cable
Shared network

From 0-3 Mbps for images; 0.6-2 Mbps for live preview

Field of View
20 degrees
60 degrees
Expansion
N/A
General purpose I/O, analogue inputs,

serial ports, USB, etc.