Over the past 18 months or so, Atmel have put a real push into getting the most out of their ARM9EJS-based CPUs. They h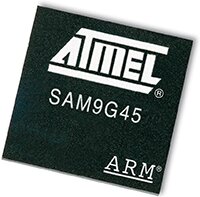 ave managed to boost the clock speed, increase the peripheral set, reduce the power, and reduce the cost all in one go. These new chips, the AT91SAM9G20, AT91SAM9G45, and very recently release AT91SAM9M10 all run at 400MHz, with peripherals covering image sensors, ethernet, video playback (hardware accelerated on the M10!), as well as the usual set of UARTS, I2C, etc.
The big breakthrough with Atmel however has really been the power consumption and price. The AT91SAM9G20 core consumes only 80mW at full speed, and can be purchased for as little as $16 in single quantities, down to $7 in larger volumes.
Here at Bluewater we have taken great interest in these Atmel development, and have incorporated these into our new module, as well as our (upcoming) 9G45 design.